It's already June, and the official first day of summer is just around the corner!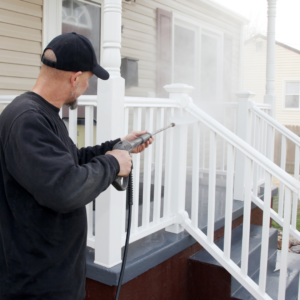 With summer usually comes swimming, BBQs and sandals, but also home improvement projects. Have you ever wondered what the top summer home projects are?
Pressure Washing

: As far as a quick home improvement task, nothing beats a good pressure washing. This is a great way to remove built up dirt, sediment and even mildew/algae. Hire a professional or do it yourself! Generally speaking, you can rent a pressure washer for a low cost per day, but hire a professional if you're worried about damaging your home.
 

Landscaping

: As a first impression for visitors and home buyers alike, landscaping is always at the top of every summer home improvement list, and is one of the biggest home improvements that add value to a property. Whether adding a nice simple lawn, or an elaborate garden, landscaping can add a lot of value to your home!

New Windows

: This is a great investment especially as far as energy-efficiency goes. This includes long-term savings from heating and cooling costs when you no longer have leaky or old windows! In general, dual-pane are the way to go to not only help block outside noise, but keep that cool AC air in all summer long!

Painting

: Painting a house is one of the fastest ways to increase both value and curb appeal, and add some character to your home. There is not much else that can make a home look more updated in such a short period of time! This is another one of those things where you can do it yourself, or hire a professional to save yourself the time it takes to do it right. If you're doing it yourself, remember a great primer makes a lot of difference!

Programmable/Smart Thermostat

: Installing a programmable thermostat is one of the easiest and most efficient ways to do save money on heating/cooling bills. These allow you to customize your temperature profile throughout the day, to save you from cooling your house too much when no one's home! Smart thermostats, like Nest, can even be controlled from your phone.
Other common summer projects include adding a deck/expanding your current one, and kitchen renovations! After all, updating your kitchen, even in a small way, can make a huge impression. From modern lighting to new cabinet knobs, you can make a difference without adding the latest expensive gadgets.