Like many of us, you might be thinking of home projects you can do this summer to spruce up your home, without spending an arm and a leg. You're spending a lot of time outside and might notice some little things that could use fixing up.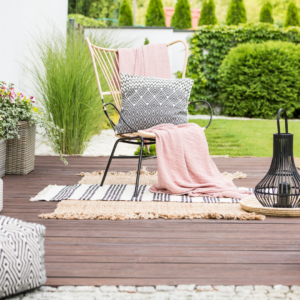 Here are the top easy DIY summer home projects most people take on:
Sealing your deck. This is a great project for a cool, cloudy day. Clean the area you want to seal, and then make sure to apply the sealer in the direction of the natural wood grain.
Edge your garden. Edging is an easy way to spruce it up and make it look more defined. Also a great way to get some weeding done! Get the kids to help and make it a family affair.
Add landscaping spotlights. This small solar-charged lights make such a difference in your backyard, or front walkway. Most only need a few hours of good sunlight to recharge during the day. If you want them to be more hidden, plant some herbs that do double duty – hiding your lights and for eating later!
For inside, fresh flowers! Fresh flowers brighten your home up so much, whether they're from your garden or from a local flower subscription service.
Clean your outdoor rugs. If you have a rug on your deck or patio, it'll last a lot longer if you give it a good cleaning periodically. Vacuum it, hose it off and let it dry in the sun thoroughly.
In addition, make sure you change any filters in your HVAC system especially as we use our AC so much in the heat of the summer!